Steps For Painting Your Kitchen Cabinets
Posted by Tonya Peek on Friday, May 12, 2023 at 5:03:22 PM
By Tonya Peek / May 12, 2023
Comment
Remodeling or renovating your kitchen can be an expensive home project,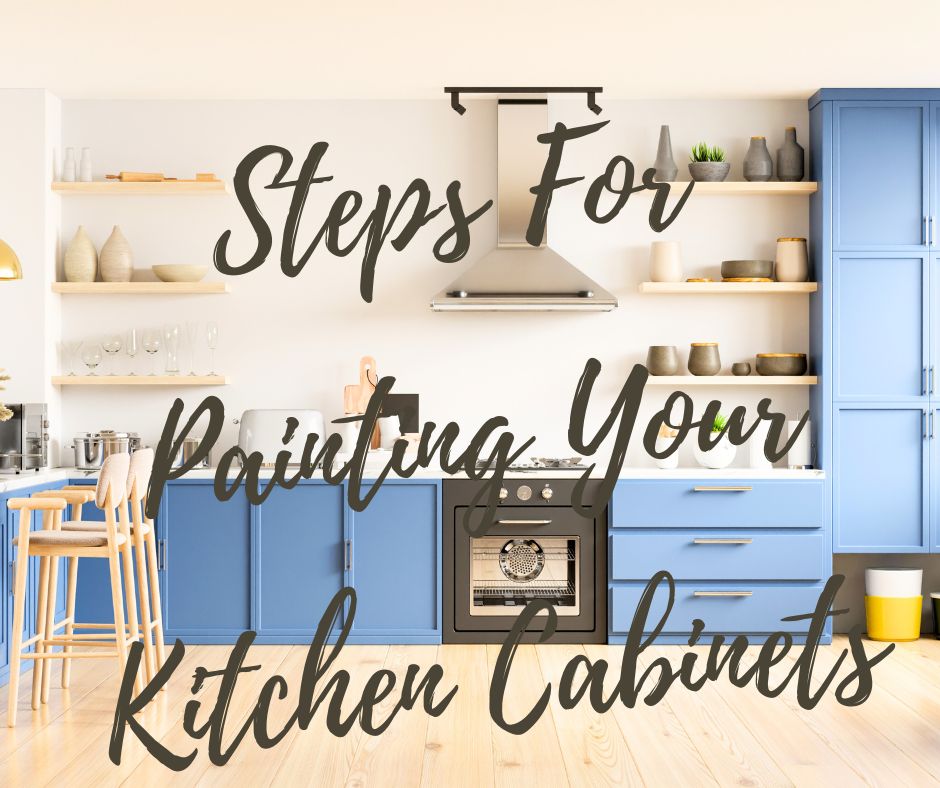 but it can make all the difference in your comfort, happiness, and resale value. Your kitchen is known for being the most used room in your home. One of the biggest things that can make all the difference in your kitchen is painting the kitchen cabinets. oftentimes this is one of the first things new homeowners do, but many people underestimate how detailed this project can be.
Should I Paint My Cabinets?
Before you buy your paint or hire a contractor for this job, you need to examine your cabinets to make sure that you can paint them. In some cases, cheap cabinetry cannot successfully make it through a repainting process. If everything is in good shape and can be repainted, it's time to get started.
Steps For Painting Your Kitchen Cabinets
Preparation
To have a successful painting job, you need to do the proper prep work. You need to start by emptying all of your cabinets and removing everything off the counters. Relocate any tables or furniture that is nearby and tape paper or tape off all of the countertops and flooring so you can protect the house from dust and fumes. Do the same all around the walls near the cabinets and set up a workable space for all of the cabinet doors, drawers, and shelves.
Remove the doors, drawers, and shelves
Before you can get started, you will have to mark all of the drawers and cabinets to know what goes where after painting. You want to prevent any potential mix-up. You will want to remove all of the doors and the best way to do this is to work from left to right and top to bottom, labeling each one by using a numbered piece of tape. Set aside all of the hardware and label that as well.
Clean
Next, clean all of the cabinets and shelves with a degreaser and wipe them all down with a rag. You will want to make sure you have removed all of the oil or grease that can prevent a perfect finish. Once you have all of the pieces clean, you want to rinse everything thoroughly with water and let them dry.
Preparation Again
You will now go through a second round of preparation, Open all of your windows for proper ventilation and put on the appropriate safety gear. You will want to use a liquid deglosser to scrub down all of the surfaces. Vacuum the entire area and make sure there is no dust hanging around.
Prime
It is now time for primer. You will use a paint tray to pour prier in and load the paint roller or brush. Make sure the primer goes on starting at the top of the cabinet. When the primer dries, clean off your roller and save any excess paint primer.
Sand/Caulk/Fill
When the primer dries then you will want to sand all the flat surfaces. You want the wood to feel smooth. Any open seams will need to be filled with caulking or spackle. Wait for this to dry and then you can use a spray-on fast-drying primer.
Paint
At this point, it is time to paint. Usually, 2-3 coats will do the job for you. For the cabinet paint, you will want to use a brush and roller. For the interior, you can apply the paint with a mini roller. Between paint coats, you will want to sand the surfaces lightly and clean up the debris after.
You're finally ready to paint! If you're using roughly the same shade as the existing color, two coats ought to do the job. You might even get away with one. Painting over a dark finish with a light color is tougher and could require three coats. Break out a new brush for each coat.
Put Everything Back
When the paint is finally dry then you can re-attach the doors and drawer fronts. This is the time to replace any pulls that you want to switch out for new ones.