Reasons Why You should Buy A Vacation Rental In Frisco
Posted by Tonya Peek on Monday, January 23, 2023 at 3:32:07 PM
By Tonya Peek / January 23, 2023
Comment
When you decide it's time to invest in real estate and buy a vacation home, you are making a financial; and personal; investment. Frisco is a great place to make his investment. A vacation home can help you build wealth, and retirement, and provide a family vacation spot. Depending on what your personal investment goals are, consider Frisco when you look for your vacation rental. The proximity to Dallas makes for a great investment. So, why else would you consider a vacation rental? Let's look at some of the top reasons below.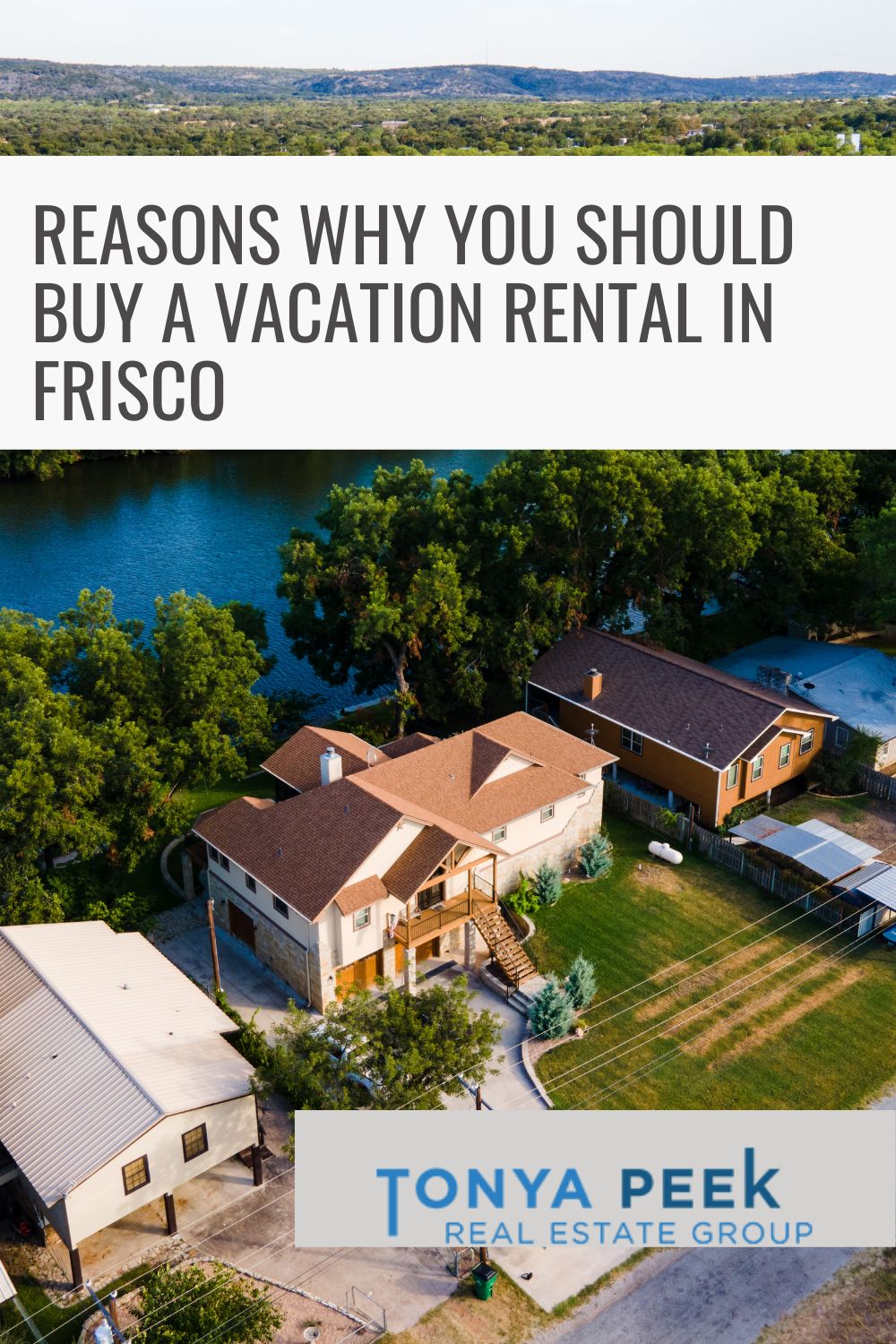 Reasons Why You Should Buy A Vacation Rental In Frisco
Diversify Your Income
If you are renting out your vacation home then you will potentially receive profits from your short-term rental. This would be another stream of revenue for you. Rental income is a great addition and can supplement the regular income that you are already earning. While looking for a potential rental you want o work with an experienced agent who can help you determine your financials and if your potential investment has a great ROI for you.
Equity & Wealth
Owning a second home helps you break into the business of real estate investing and helps you build equity and wealth so you can do it all over again. This helps you start your very own real estate investment portfolio. A majority of vacation rental owners invest using financing options and then pay all of their mortgage and maintenance fees through the rental revenue. All of this is happening while you are building equity.
Retirement
Whether you are close to retiring or not, owning a rental could give you an additional home option when you do retire or provide that extra income e. It can also allow you to start building generational family wealth. Consider a property management company that will take care of your investment until you are ready to retire to your vacation home. Retirement can be challenging for many financially so consider ways to have this rental paid off before you retire and then you will greatly benefit from the additional income stream.
Vacations
This may seem like an obvious reason, but while you put in the work to manage the rental and build the financial side of it all, you can also enjoy your investment on your vacation. Owning a vacation rental can provide your family with a great place to stay that has no additional cost to you. This can be a breath of fresh air for those that desire a nice getaway place for staycations. If you create a place that feels like a vacation for you, then it will likely be a desirable vacation spot for others.
In Conclusion
Owning a vacation rental in Frisco can provide you the ability to diversify your income, build equity and wealth, plan for retirement, and enjoy a family vacation.
For more information on investing in real estate in the Frisco, TX area, contact us. We would be happy to assist you with our expertise for all your home buying and selling needs.