How to Have Smooth Sailing with a Home Inspection
Posted by Tonya Peek on Monday, October 10, 2022 at 10:38 AM
By Tonya Peek / October 10, 2022
Comment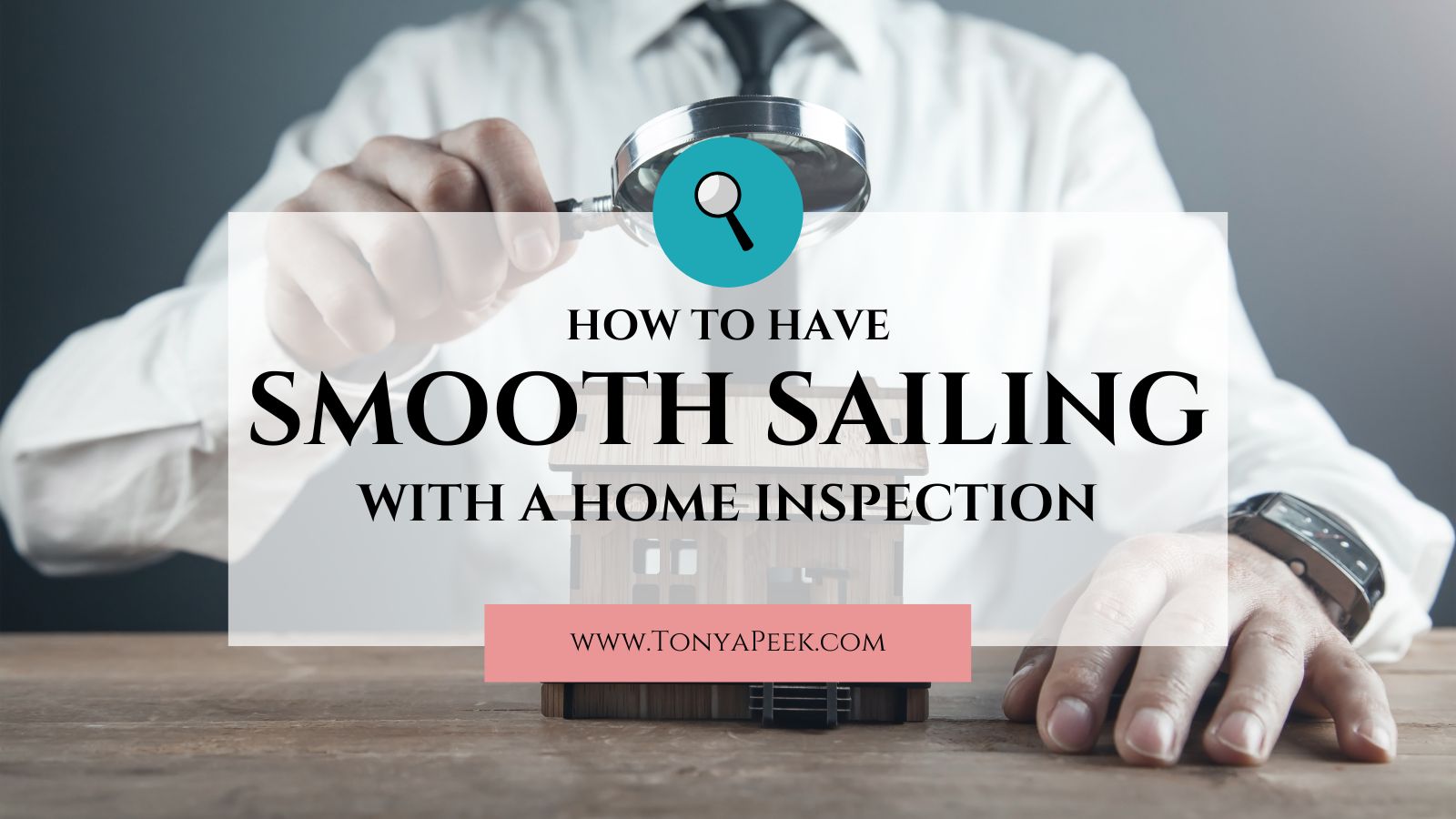 When it comes to the final real estate transactions, a home inspection is typically the final step before making a sale official. Some homebuyers choose to make the closing on a home contingent based on the results of a home inspection, which can in turn make it a crucial moment in the home-buying process for buyers and sellers. You want to know as much as you can about the property you may be buying, as it is no small investment.
Depending on the area you live in, and understanding how that said location can affect the wear and tear of your home can aid in catching issues that can be pricey to repair early on. For instance, Texas typically has mild to cold winters and hot and humid summers. A couple of issues found in homes that have endured years of heat in Texas summers include:
A leaky roof.

Warped decks, floors, and other wooden structures.

Ruined exterior paint.

Weakening of the house foundation.
Continue to read to find out the what, why, and how of a home inspection to sail smoothly through your next one!
What is a Home Inspection?
A standard home inspection can provide a potential buyer with a full detailed report on a home that they are interested in buying. Someone who would qualify to detail such a report is a licensed home inspector, who would conduct a visual inspection on all parts of the property, especially ones that are easily accessible to make note of the condition of the home. This is not a typical "pass/fail" sort of test, as it is only used to provide an assessment of what may be needed to repair or be replaced within the home. A standard home inspection may cover the following:
Structural components such as the flooring, walls, ceiling, and stairs.

Exterior components such as siding, attached decks, and porches.

Roof.

Plumbing.

Heating and air conditioning.

Major appliances.

Ventilation.

Insulation.

Fireplaces and wood stoves.

Windows and doors.
Depending further on the age, location, and condition of the home in question, there may be the need for additional inspections to focus further on things such as septic, or more hazardous materials.
Additional Types of Home Inspections
Radon Testing
You may be wondering why the term radon seems like it comes straight from the pages of a comic book. It is very real, and it is very unhealthy and can be a huge problem when it comes to passing a home inspection. Radon is an odorless, colorless gas that usually results from a chemical breakdown of radioactive elements. It can be released from well water, building materials, and soil, as just a few examples. Radon is the number one cause of lung cancer in non-smokers in the US according to the EPA, or Environmental Protection Agency. Scarily enough, about 1 in 15 homes will have an unknown elevated level of radon. Older homes are typically more at risk for this issue, and while recommended testing can take more than 90 days to complete, there is always a shorter (though less thorough) test that can tell you if there is a dangerously elevated presence of radon in your house.
Mold Inspection
If you see traces of mold, you have mold, and you should get a mold inspection to see the extent of the damage. A professional mold inspector will use a moisture meter to detect any traces of dampness in drywall, insulation, and other building materials, while also taking some air samples inside and outside of the home.
Foundation Inspection
A standard home inspection won't typically inspect the home's foundation, though it can note some structural issues with a home. If the house appears to be in rough shape due to age, or because of the environment of your location, such as visible cracks in the foundation, a foundation inspection will become necessary. Inspectors will analyze a house's foundation and make any notes of issues such as drainage problems, tree roots, cracks, or other indications of movement.
How to Pass a Home Inspection
As stated above, it is not a typical test of "passing" or "failing" when it comes to a home inspection, even if it feels like failing when a home inspector recommends thousands of dollars in repairs to problem areas. There are always ways to set yourself up for a positive, efficient home inspection experience. When you prep the house for inspection, it is far easier for an inspector to get in and out, completing their job quickly and efficiently. Here is a checklist of things to do to prepare your home before having a home inspector over:
Provide access to areas that need inspection:

If a potential area that requires inspection is unable to be reached by a home inspector, this can result in a blank field on the report, resulting in a huge red flag for potential buyers. Make sure to clear any clutter that can access places such as basements, attics, closets, furnace rooms, and under sinks. Doing a quick clean-over of your home can set you up for success.

Clear the perimeter:

The inspector will look at siding, trim, and caulking around windows, doors, and more. Clear the space around your home of plant growth, trash cans, or anything that can impede access to your home for inspection.

Clean the roof:

The roof is an important part of the inspection. Cleaning moss and debris from the gutters, making sure the downspouts are in the right spot, and checking for any damage, or missing roof tiles can help you pass with flying colors.

Replace bulbs that are out:

Either the bulb is out, or there may be something wrong with the wiring. An inspector may not know, and this could get you a possible defect in the note.

Fix toilets:

Fixing a running toilet can be both easy and inexpensive. A long run after you flush is something a home inspector can note as a defect, so it is best to take care of it now rather than later.

Label the fuse box:

A confusing fuse box is no one's cup of tea. Make sure that the labels are all correct and that switches function correctly. Add or replace missing or damaged labels if you see them.

Double-check doors, drawers, and cabinets:

Test anything that you can open and close, making sure that knobs are securely in place and that locks can function properly. Tightening hinges or replacing broken knobs before a home inspector docks your home for it is an easy dodge.

Check for leaks and water damage:

Any signs of leaks or water damage will be noted by a home inspector, so if you can beat them to the game by checking first, it is well advised to do so. Check under your sinks, round faucets, bases of toilets and tubs, and under any appliances that use water, such as dishwashers or refrigerators. Check your walls, ceilings, and floors for signs of warping, sagging, or buckling.
More: Wise Homeowners Should Consider a Septic Inspection
The home inspection will be the last hurdle to overcome before you can officially sell your home. It can be an expensive, complicated headache, there is no doubt about that. Being aware of some of the most common deal breakers and best practices for making an inspection easier can give you a leg up in the process to help eliminate stress.
Additional: Dangers of Construction Upgrades
For more information on Texas realty and groups that can help you with the timing of your inspections and next steps, check out our website! More: Great questions to ask a home inspector