Are you Moving? Here's Who Needs to Know!
Posted by Tonya Peek on Thursday, December 2, 2021 at 4:27 PM
By Tonya Peek / December 2, 2021
Comment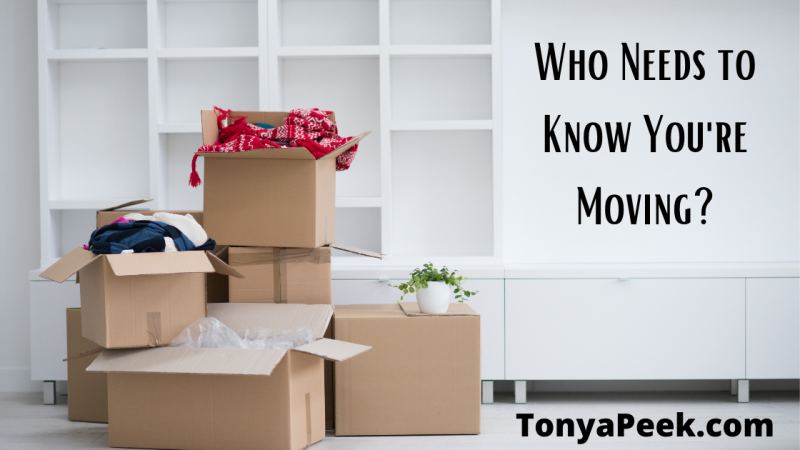 Oftentimes when it comes to moving you get so caught up in the packing and preparing that you forget a few common chores that come along with the move. While you may grow with excitement while sharing the news of your move with your immediate friends and family, there are quite a few other people that you'll want to notify when it comes to moving.
Related: What you Need to Know Before Moving to Frisco, Texas
Post Office
One of the most important steps to moving is updating your address with the post office. It's very easy to do, only takes a few minutes, and helps to make sure that any mail that runs through the United States Postal System is forwarded to your new address. While there is a small fee to complete your change of address online, you are also able to file your address change in person at any USPS Post Office.
Utilities
During the chaos of moving, it is often easy to forget to cancel your utilities at your old address and start your utilities at your new address. In most cases, you can set up any utilities or additional services, such as internet, in advance so that once you get the keys to your new home the stress of setting up your utility accounts has already been completed, giving you one less thing to worry about while unpacking and settling in.
Department of Motor Vehicles
When it comes to moving updating the DMV (department of motor vehicles) should be high on your priority list. Some states are more lenient than others, however, the deadlines for reporting your address change ensures that your auto registrations, license, as well as license plates if applicable, are all done in a timely manner, aligning with your state's deadlines. By avoiding this address change you could put yourself at risk for hefty fines later down the road.
Insurance Providers
Any and all insurance providers will need your updated address. This list can often be lengthy, from health insurance, car insurance, homeowners, or renters' insurance, etc. all of these providers should be notified that you're moving and provided with your new/updated address.
Related: The Biggest Packing "Don'ts"
Employers
For some, the idea to update your employer of an address change may seem like a no brainer, however, surprisingly it is overlooked often. Updating your employer helps ensure that paper pay checks, paystubs, bonuses, as well as tax documents, retirement statements, or a laundry list of other documents containing personal information is sent directly to your address, which can help limit the risk of your personal information falling into the wrong hands.
If you're currently searching for a new home, are ready to sell your home and need a qualified seller's agent to assist you, or if you have any further questions regarding Texas Real Estate, please feel free to contact our office at any time.