8 Selling Don'ts to Lead you to a Successful Sale
Posted by Tonya Peek on Tuesday, June 14, 2022 at 6:19 PM
By Tonya Peek / June 14, 2022
Comment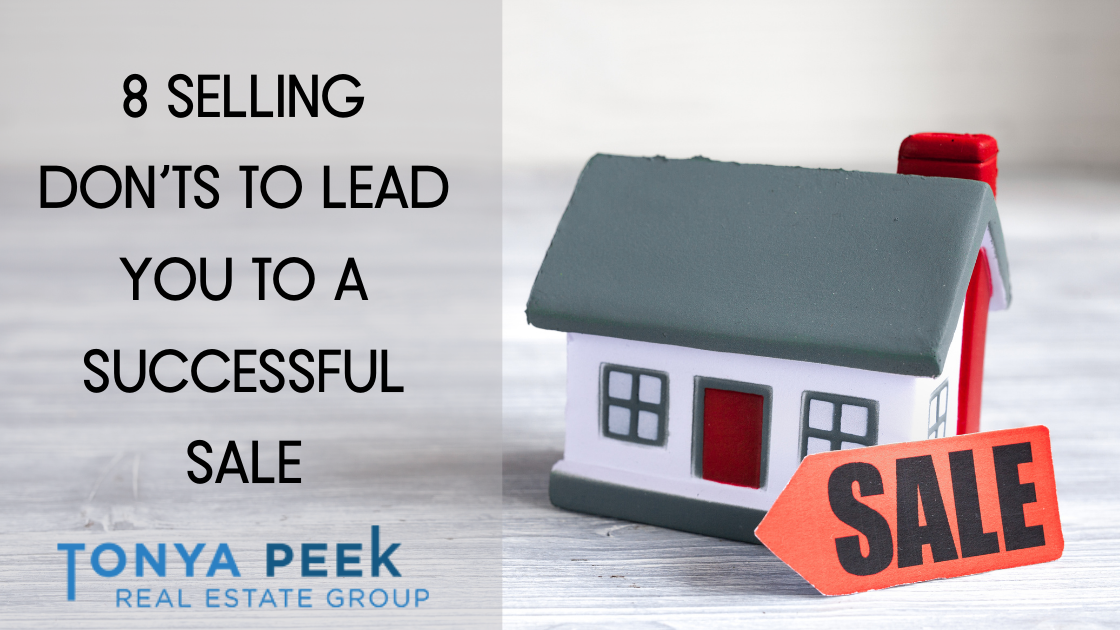 Selling a house is a process, along the way you may learn a few things, might wish you knew a few things prior to listing, and might find yourself frustrated or stressed, however, a lot of this can be avoided a long as you do your research and prep prior to listing. Just as there are thing you want to include in your listing, there are also a few things you'll want to avoid. Don't forget about these 8 Selling Don'ts.
Related: Tips to Handle the Emotions of Selling Your Home
#1 Don't do Major Home Improvements
As much as you might think that upgrading your home will boost the list price, in most cases, you won't be able to recoup the cost of the upgrade and will lose money vs. gain it. Save major home improvements for the new homeowners.
#2 Don't Get Greedy
Set a realistic list price and don't overprice your home. Setting a list price that falls within the true home's value is the best option when it comes to pricing your home.
#3 Don't Forget About Odors
Odors tend to linger and unfortunately you get used to them. Whether it's pets, smoke, cooked broccoli, etc. make sure to deodorize your home prior to listing.
#4 Don't Forget About Closing Costs
There is no such thing as a zero-closing cost sale. Make sure to budget for closing costs accordingly and understand all the fees you will be required to pay during the selling process.
#5 Don't Forget to Change the Batteries
Even if the alarms aren't going off, go through your home and change all the batteries in your smoke detectors, carbon monoxide detectors, etc.
#6 Don't Take Your Own Photos
It might be tempting to save a few bucks and take your own photos; however, this can cost you thousands in the long run. With nearly all buyers starting their home search online, professional photos are a must in representing your home to buyers with a great first impression.
#7 Don't be Afraid of Repairs
Once the inspection is complete you may be asked to make a few repairs by the buyers. This isn't something to be afraid of, and if you would prefer not to make the requested repairs you may be able to offer a credit to help cover the cost for the buyers to repair after closing.
#8 Don't Cancel Your Insurance
You're selling your home, so you don't need your homeowner's insurance anymore, right? Wrong. You might even want to up your insurance a little. With tours and open houses, the foot traffic in your home will be at an all-time high and unfortunately accidents can happen. Keeping your insurance plan active helps protect your home from any accidents or damages that may occur during a showing.
Related: Home Staging a Vacant Home
If you're currently searching for a new home, are ready to sell your home and are in need of a qualified seller's agent to assist you, or if you have any further questions regarding Texas Real Estate, please feel free to contact our office at any time.