5 Valuable Tips on Improving Your Home
Posted by The Tonya Peek Group on Tuesday, September 27, 2022 at 8:36 AM
By The Tonya Peek Group / September 27, 2022
Comment
When it comes to the big decision to improve your home, there are two big factors to take into consideration when it comes to where to put your money. Firstly, ask yourself if it is something that will increase the value of the house to you, and secondly if it will increase the value of the house to others. Valuable house improvements will increase your home's worth in close relation to the amount that you spent on them. While the improvements that may seem most worth pursuing to you personally can be subjective. Continue to read 5 home improvements that can give you the biggest bang for your buck!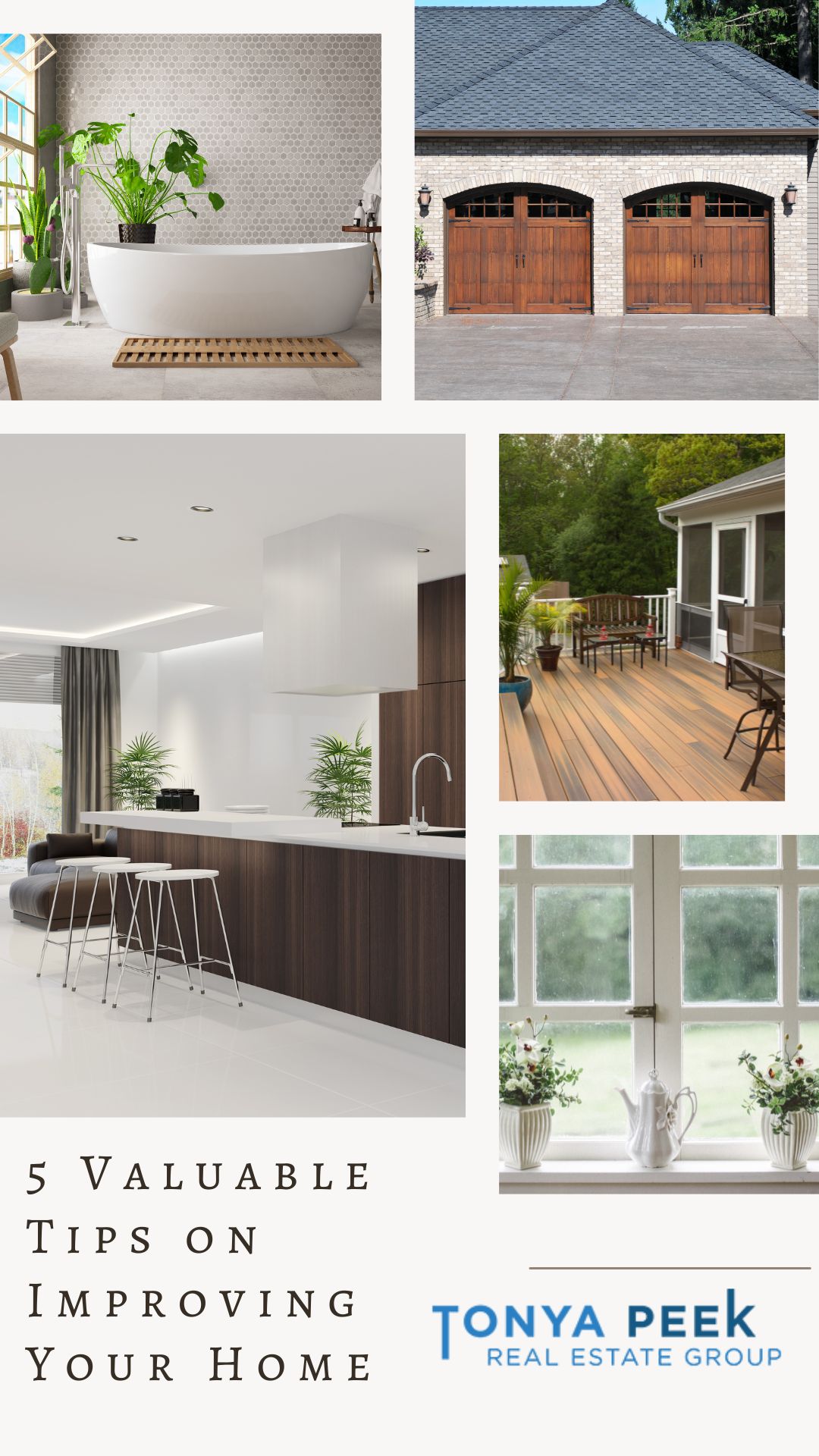 1. Deluxe Garage Door Replacement
While this upgrade may not seem like the most exciting to you, replacing your current garage door with an upgraded model can yield you a higher percentage in recouped costs, money well spent. You may be asking yourself what constitutes an upscale garage door. By today's standards, the best garage doors are those that are constructed with materials like steel, wood composites, and aluminum. All of these materials, though more expensive, come with high-performance additions such as energy-saving glazing and insulation. Aesthetically speaking, wood is always a good classic choice, though the pro of it is that it is not quite so weather resistant. If you have your heart set on wood, look at a blend of fiberglass and wood composite, not truly wood, but possessing the same appearance, without the downfalls of wood.
2. Wood Deck Addition
Renovations that give you the most value when looking into improving your home for a sale with the most value tend to focus on the exterior of your home. When it comes to your backyard and deck, wood is the way to go! A composite deck addition to the backyard patio won't yield as much return in the sale as wood will. For added function and stability, think about adding a railing.
3. The Kitchen (Within Reason)
It may be difficult to look at your kitchen and not want to gut the whole thing and start anew. While the kitchen is major when it comes to a high value in home improvements, it all should be done within reason. Potential buyers typically will look at the functionality of the kitchen when determining if a home is worth purchasing. There is a wide range of valuable home improvements that can be made to the kitchen that will keep you within your budget while being able to check off the objectives on your list. From a new paint job to new and shiny stainless steel appliances and installing new countertops and cabinets. Interestingly enough, minor kitchen remodels can bring in a high resale value. The most valuable remodel improvements include:
Modernizing cabinets and countertops
Upgrading all appliances
Update the sink and faucet
Update the flooring
4. Bathroom Remodel
A mid-range bathroom remodel typically will include the following:
Updated tiles
Updated fixtures
Updated toilet
Updated counters
Updated lighting
A valuable home improvement in the remodel of a bathroom is turning the standard space into a universally accessible one. This may include widening your doorway for wheelchair accessibility, installing a walk-in shower for space, lowering light switches, and installing support bars near the toilet. Small accessibility modifications will have major appeal.
5. Siding and Vinyl Window Replacements
Old, damaged, or dated exterior siding can rapidly date and age the appearance of your home. Updating your siding is a valuable renovation, and making sure not to neglect the trim, since it is an important factor when it comes to making your siding upgrade look its best. Complement this look with upgraded windows. Low-energy vinyl window replacements can help ensure your new siding doesn't clash with dated windows.
For more information on home improvements and Frisco real estate sales, check out our website.