5 Easy Ways to Save Money on New Construction
Posted by Tonya Peek on Thursday, March 31, 2022 at 5:58 PM
By Tonya Peek / March 31, 2022
Comment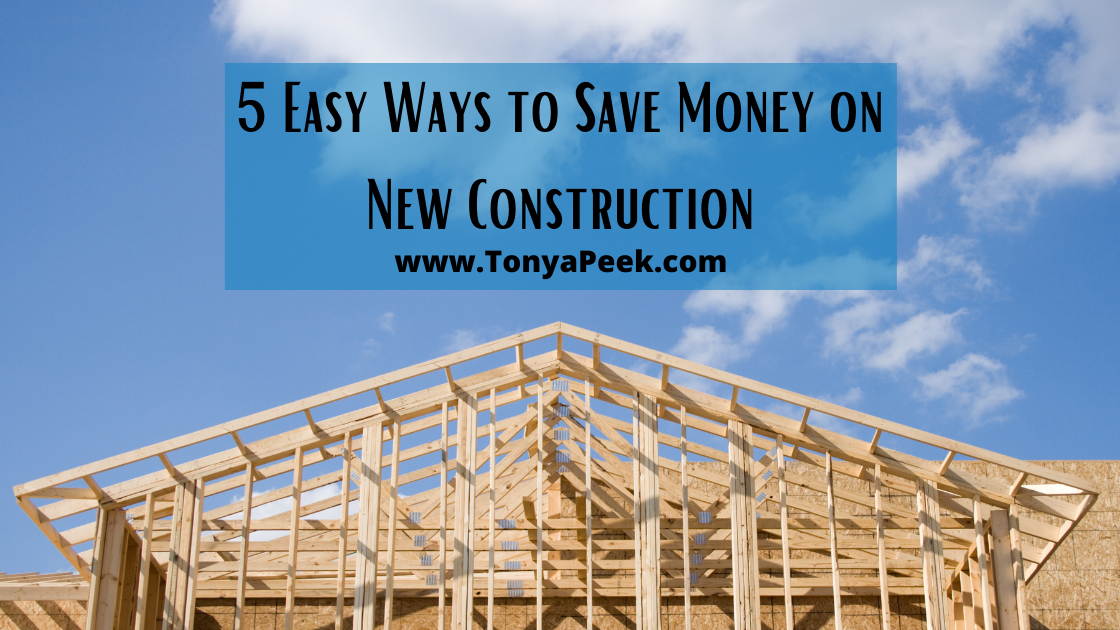 There are still a lot of new home construction projects going on around the Frisco, TX area and if you're planning on customizing a new home, you're probably looking to save some money along the way. After all, upgrades here and improvements there can really add a lot to your budget so if you're planning on buying a new home or building one, start with these five simple ways to save yourself some dough.
#1. Have your own real estate agent.
Many of these new construction subdivisions and developments, even condo buildings will have their own real estate agents that help buyers facilitate a transaction, but, what most buyers don't realize is that those agents are working for the developer or the seller of the homes or condos in that division. Their main objective is to sell you a house. This may or may not be the best option for you so having your own representation that is completely unbiased and not affiliated with the development is really the best way to get the best deal.
Related: Community Highlight: The Grove Frisco
#2. Look for lower interest rates.
Builders were looking to get their home sold quickly may actually buy down your interest rate making it more affordable for you. This is often best used if the buyer uses the preferred lender but it doesn't mean that you don't have a choice. Make sure you do your research and ask the builder if they're willing to buy down your interest rate.
#3. Look for a move in ready home.
A lot of the extra fees come in custom upgrades but if they've already created a home with all the upgrades you might want, it could actually save you money. This eliminates the construction weight which means that if you're renting you don't have to spend any more money on rental payments and you will need to choose all the fixtures, finishes, and features if the home has everything you want. Many of the upgrades are also included in this works especially well if you choose the model home.
Related: Should You Wait to Buy a House Until You Have a 20% Down Payment?
#4. Ask about builder upgrades.
It typically cost builders far less to upgrade your flooring or countertops that it would cost you so looking for upgrades while you are building instead of after the fact could save you a lot of money. You might be surprised at what builders and developers are willing to "throw in" with the purchase of the house.
#5. Ask about personalized floor plans.
Many new homes have different options that give buyers some flexibility but these options can come at a higher cost. Depending on how motivated the builder is to sell you might ask about any personalized floor plans that would make it less expensive versus a customized floor plan.
For more information on new home developments, subdivisions, and brand-new condos in Texas give me a call today. Let's discuss what it is you're looking for, your budget, and how we can save you some money on your next new home purchase.